Great Places To Go With Children In Madrid
Madrid is one of Spain's most beautiful and interesting cities, but it's not known as a child friendly place to visit. That's unfortunate, because there are a lot of things to do and see with the kids in Madrid.
Here are a few of our favorites.
The Teleférico cable car
Madrid's Teleférico cable car runs from the Paseo del Pintor Rosales (near the Metro Argüelles) to the Casa de Campo park. It's a lovely 15 minute ride that gives you some stellar views of the downtown.
CosmoCaxia Science Museum
CosmoCaxia's science museum is a great spot for kids of all ages. Favorites include the tornado machine and . There's a special Kids Zone and a highly regarded planetarium (both are only open limited hours, so check before going).
The Reina Sofia Museum
Based in Madrid's lovely and pedestrian friendly center, the Reina Sofia museum is probably one of your best choices in terms of art museums for little kids. The museum has surreal paintings and statues by artists like Picasso and Dali that should definitely capture the little one's interest.
Interestingly, the Renia Sofia allows visitors to walk right up to the art, without barricades or ropes in the way, so you may want to make sure you have a firm grip on your little one's hand.
Churros Con Chocolate
Hands down, one of the things your kids will love the most about Madrid is the tradition of churros con chocolate.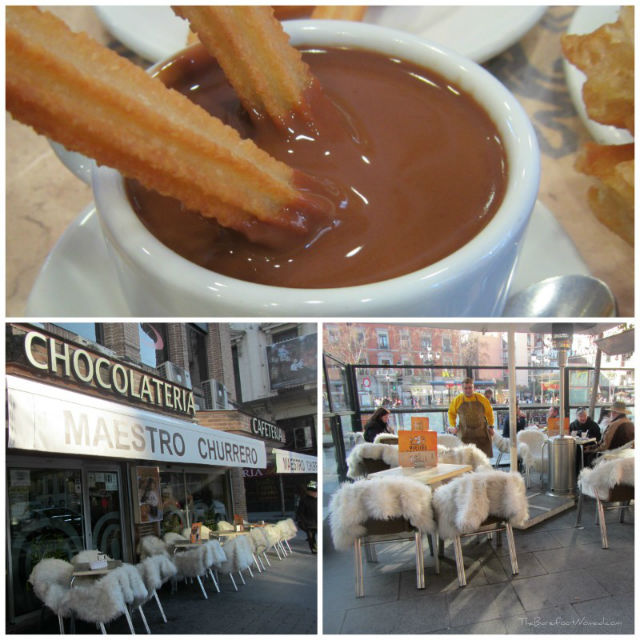 Churros con chocolate are simply melted chocolate is served in small cups, served with long pieces of fried dough called churros. You then dip the churros in the thick chocolate (more a chocolate sauce than a hot chocolate drink).
The most famous place to grab your churros con chocolate is the iconic San Ginés (in business since 1894), but their are plenty of other places to get your chocolate on, including the Maestro Churrero Chocolateria.
Walk around Madrid's Centro
Most of Madrid's center (the centro) is pedestrian only. The lack of cars, charming cobblestone streets, and cafes and bakeries on every corner make it a great place to walk with the kids. Just be aware that many stores (even cafes and restaurants) keep traditional hours, meaning that they close for the siesta hour from 2-5 pm (though they are open until later at night.
Plaza de Oriente (and the nearby playground), the Royal Palace (Palacio Real de Madrid), Plaza Mayor and Plaza de España are especially good walks with the kids.
A Tapas Bar
Children are often seen at Tapas bars in Spain accompanying their parents for a glass of wine or a beer.
In Madrid (and Spain in general), you'll get a small tapa (appetizer, in North American terms) with every wine or beer you buy. Tapas can be as simple as a dish of olives, or as elaborate as paella, depending on the tapas bar.
Check out some of these great places to see with kids in Madrid in the map below: